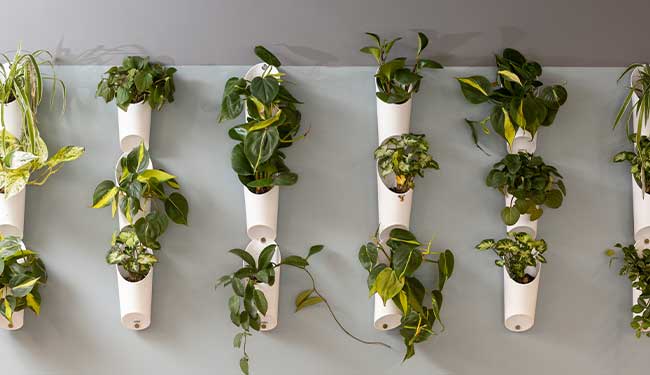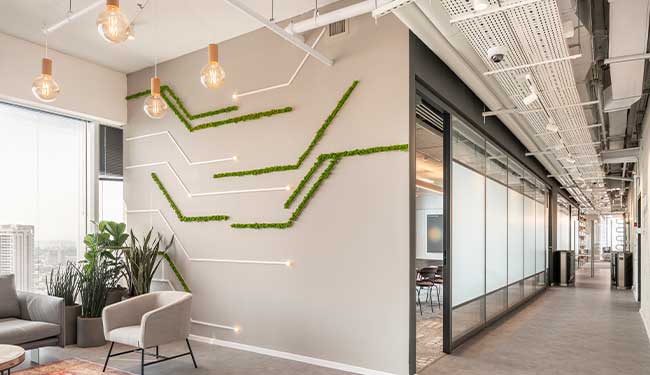 Why plants are good for your office space?
We at Studio Luka combine plants in all of our designs,
whether it is combining them as they are as a part of the architecture and design in the various workspaces,
or as a part of the three-dimensional elements that we produce. 
We have prepared a list of reasons why it is worthwhile to incorporate vegetation in your workspace.
Plants are good for your health!
Office plants take a big part in your employee's well-being, they filter toxins and help refresh the space in which they grow. 
If you don't have the best ventilation in your office – plants are a great solution for fresher air in your workspace.  
Try to freshen up your office with Devil's Ivy, Peace lilies, and Spider Plants, 
these are common workspace plants known as air fresheners that will revive your employee's work life. 
Plants can help us elevate office productivity!
Offices that lack vegetation is considered the "most toxic" spaces for our health. 
Studies show that employees work better when plants are added to their work environment. 
When workers are connecting with their workspace they tend to be more productive and focused. 
Try placing the vegetation in different corners of the workspace so that the workers can see them from their own desks.
Bamboo Palm, Zebra Plant, and Red edge Dracaena are great for sprucing up your workspace. 
Plants empower our creativity! 
We all know the common creative blocking once in a while.
Sometimes we're out of ideas and in need of inspiration.
Office plantation can be of assistance in the matter. When we stimulate the senses with bright colors and scents our creativity can blossom.
Even if we take the time to smell the flowers it's great for our creativity flow and reduces stress.
Cypress vine, Hens and Chicks, and Chamaedorea Elegans are eye-catching plants and produce great scents.
Plants help absorb background noises
Since open space offices dominate nowadays in most workplaces,
workers can experience some distractions from time to time.
Office plantation can absorb some of the background noises,
especially if your office has exposed concrete walls or other hard surfaces.
These are just some of the many ways in which office plants can help your office decor, productivity, creativity, and overall team health. 
Luka Studio can help you discover all the benefits plants have to offer your workspace, for more information contact us!